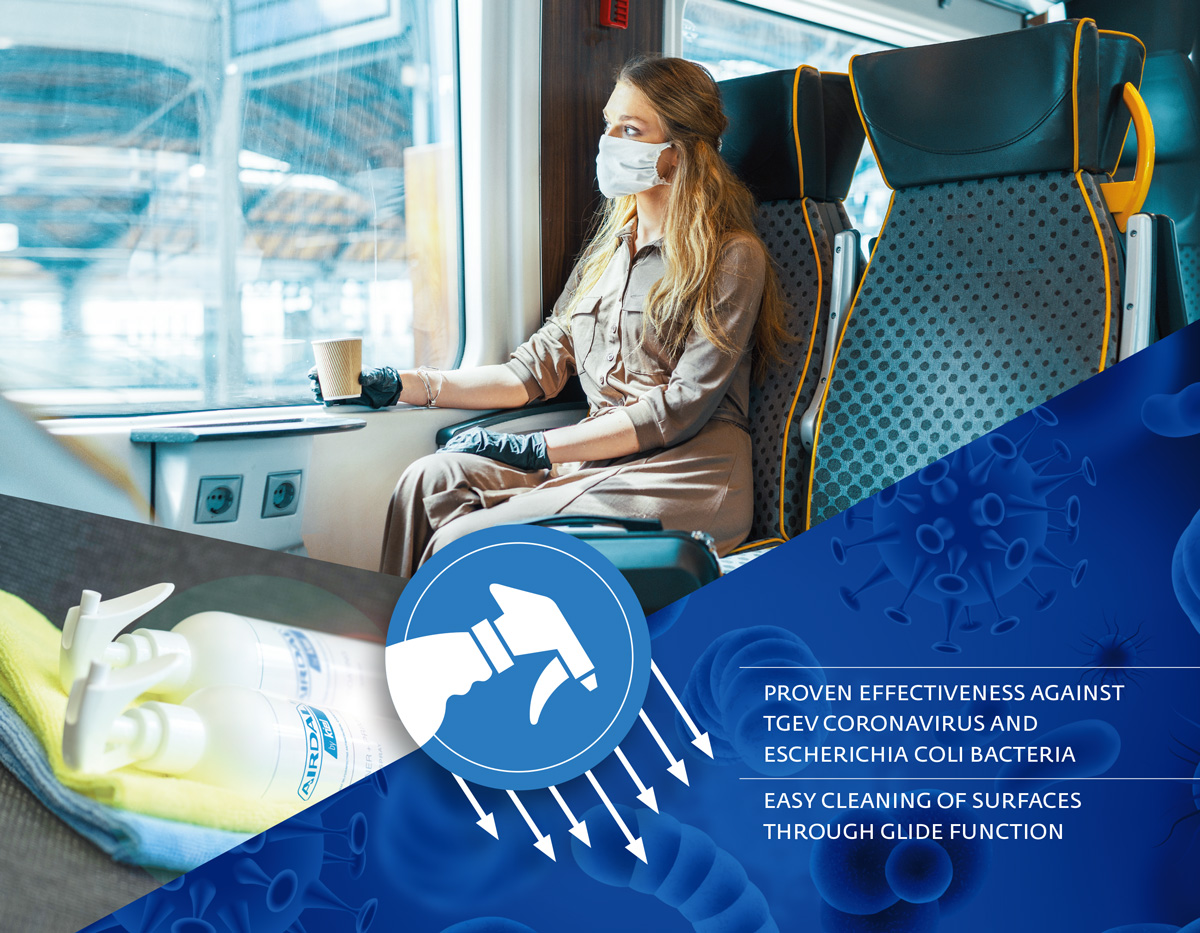 EFFECTIVE PROTECTION AGAINST VIRUSES AND BACTERIA:
---
Permanent bactericidal and virucidal effect

Easy to apply

Proven efficacy against Coronavirus and

coli bacteria

Easier cleaning of surfaces thanks to GLIDE function
---
With its AIRDAL® by KIEL, Franz Kiel GmbH is bringing a new product onto the market, and one which is likely to be particularly appreciated in the current climate: AIRDAL® by KIEL protects surfaces in buses and trains against viruses and bacteria, and can thus contribute to the control of diseases and epidemics. In view of the current Corona pandemic, this has come at just the right time.
Permanent virucidal and bactericidal effect
Pathogens adhere to surfaces and are passed on via contact. This is where the virucidal and bactericidal effect of AIRDAL® by Kiel starts: The product produces a protective film that permanently eliminates viruses and bacteria on surfaces.
The principle behind it – AIRDAL® powered by Liquid Guard Technology – is purely physical and won the German Innovation Award in 2019: AIRDAL® by KIEL forms an invisible, long-lasting layer of ultra-thin, amorphous glass. This has numerous very small peaks. Positively charged nitrogen molecules attract the negatively charged cell wall of viruses and bacteria, which leads to the destruction of the cell wall and the decay of the germ through contact with these peaks. In this way, pathogens never stand a chance on surfaces coated with AIRDAL® by KIEL – in contrast to common chemical disinfectants, whereby new germs settle on the given surface soon after cleaning has taken place. The virucidal and anti-bacterial effect has been proven to last at least 12 months. In addition, AIRDAL® by KIEL acts as a fungicide, i.e. against fungi, and inhibits mould and mites.
AIRDAL® by KIEL also has a unique GLIDE function, which protects the surfaces from the usual signs of use from sliding contact; the protective film thus acts as a sealant. This also means that the treated surfaces can be more easily cleaned. This is an important advantage, especially for local buses and trains, where passenger frequencies are very high, and the interiors have to be cleaned and maintained on a regular basis. Tested dermatologically and found to be "very good", AIRDAL® by KIEL also does not have any adverse effects on human health.
Easy to apply
AIRDAL® by KIEL does not damage surfaces and can be used almost everywhere, for example on synthetic fabrics, wall coverings, upholstery covers, leather, plastics, metal, wood and glass. Ventilation systems and air-conditioning systems can also be treated with AIRDAL® by KIEL.
Non-absorbent surfaces must be sprayed and polished with AIRDAL® by KIEL CLEANER + PRIMER spray before use, until they are dry. This is not necessary for absorbent surfaces. The AIRDAL® by KIEL COATING spray is then applied. After polishing and a drying time of six hours at room temperature, the treated surface can be used again.
Proven efficacy
AIRDAL® by KIEL's efficacy has been proven. For example, the product reduces Coronavirus by 90 percent within an hour, and by 99.9 percent after eight hours. The E. coli bacterium is reduced by 99.62 percent after half an hour, and by 99.95 percent after an hour. In contrast to the use of conventional disinfectants, the protection provided by AIRDAL® by KIEL is permanent and is thus fully maintained even between normal cleaning cycles. Test reports on the effectiveness of AIRDAL® by KIEL are available for download at www.airdal.eu, under "Certification" or at www.airdal-retail.de under "Zertifikate".
Cooperation agreement for distribution of AIRDAL® by KIEL
AIRDAL GmbH Retail GmbH, based in Ahrensburg (Germany) and Franz Kiel GmbH have concluded a cooperation agreement for the distribution of AIRDAL® by KIEL. Kiel thus has the exclusive rights to distribute AIRDAL® by KIEL worldwide for the bus and train sector. The product is already successfully used in aircraft.
About Franz Kiel GmbH
Kiel is one of Europe's leading manufacturers of seating systems for commercial vehicles and public transportation for buses and trains at local, regional, and intercity levels, and celebrated its 75-year anniversary in 2020. Kiel offers both complete seating systems as well as individual customer-oriented seat solutions for special requirements. The Kiel brand stands for the combination of tradition and technical know-how, with innovation and creativity. Kiel seats are characterised by premium quality, sophisticated technology and modern design, and meet the highest of demands in terms of safety and passenger comfort. The aim of the company is – with its first-class products – to further increase safety and comfort for people, and to meet its environmental responsibility through innovative developments and efficient manufacturing processes. Founded in 1945 and headquartered in Nördlingen (Bavaria), the company operates worldwide and has sites in France, Poland, the Netherlands, Turkey, Spain, North Macedonia and two sites in the US. Kiel employs approximately 1400 people across all sites. Franz Kiel GmbH is certified according to DIN EN ISO 9001:2015 and ISO/TS 22163:2017. For more information, visit www.kiel-sitze.de.
Press contact:
Franz Kiel GmbH
Daniel Fräde
Sales Manager (Bus) Kiel Group
Nürnberger Strasse 62
86720 Nördlingen, Germany
Tel.: +49 (0) 90 81 21 03 0
Fax: +49 (0) 90 81 21 03 151
Email: info@kiel-sitze.de